Claim Central announced as finalist at 2018 Australian HR Awards
Today Claim Central Consolidated is thrilled to announce our People & Advancement team led by Marcelle McGrath, has been named a Finalist of the 2018 Australian HR Awards in the Best Use of Technology category.
Now in its fifth year, the Australian HR Awards annual program recognises individuals, teams and companies that are at the forefront of best practice in HR.
Marcelle McGrath, Head of People & Advancement, Claim Central said: "We're excited to be recognised as a finalist in the Australian HR Awards – Best Use of Technology category.
"As we are pioneering the way claims are managed through digitalisation, our business embraces technology in all facets of our business. We rely on technology to assist in all HR touch points such as our flexible work arrangements, and it keeps staff feeling connected which is critical as we continue to grow."
Globally, 64 per cent of organisations believe driving innovation will be a priority over the next 12 months and 75 per cent hold innovation as a corporate value. Australian companies are on par with their global peers for many cultural aspects, but lag when it comes to established talent management practices to support and build company-wide innovation capability.
Award winners will be announced at a black-tie event at The Star in Sydney on 7 September.
Click here for more information on the 2018 Australian HR Award finalists.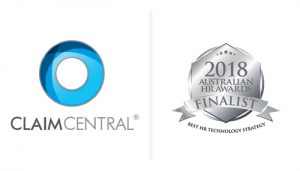 Media Enquiries
For all media-related enquiries please contact Jessica Srbinoski:
---
Sign up for the latest insights, news and updates.
Contact us
---
PO Box 4017,
South Maroubra NSW 2035
Follow Claim Central