Claim Central Consolidated improves U.S. insurer choice in digital claims fulfilment technology
Quin Netzel, J.D., to lead the company's North American practice
Jacksonville, FL – January 10, 2018 –
Claim Central Consolidated (CCC)
, pioneers in digital claims fulfilment, today announced its expansion into North America, as part of a global strategy to significantly improve claim management, speed resolution times, and reduce operational costs through disruptive technology and services for property and casualty (P&C) insurance companies.
The new practice will be known as Claim Central North America (Claim Central) led by Quin Netzel formerly of Aon, who will serve as managing director reporting to CCC's global CEO, Brian Siemsen. In Australia and the rest of Asia-Pacific, CCC has spent 11 years revolutionizing the claims function for insurers while modernizing disparate pieces of the process and uniting stakeholders through implementation and utilization of the company's digital claims and supplier management platform, ClaimLogik.
"In the U.S., significant recent M&A activity among core administration providers has resulted in insurers having little choice in digital claim fulfilment technology," said Siemsen. "While ClaimLogik easily integrates with all incumbent claim administration systems on the market today, the independence of CCC and the solution's best-of-breed functionality provides a superior service experience for insurers and their policyholders."
Netzel has more than 27 years of experience working in the U.S. insurance industry where he has held numerous leadership roles for insurance companies, service providers and management consulting firms. Most recently, Netzel was a partner with Aon where he focused on P&C claims transformation, and prior to that, he was president and SVP for BrightClaim, where he launched a managed insurance contractor network in conjunction with The Home Depot, the largest home improvement retailer in the U.S.
"Kicking off the New Year leading the Claim Central North America team is energizing," said Netzel. "Claim Central is transforming the way property and auto claims are managed through digitalization, and is well positioned to become the new global standard. I can't wait to bring this unique combination of disruptive technology, simple processes and focus on the customer to help US and Canadian insurers elevate their claims handling capabilities."
Ends

Media Contact:
Jennifer Overhulse
jen@stnickmedia.com
+1 859-803-6597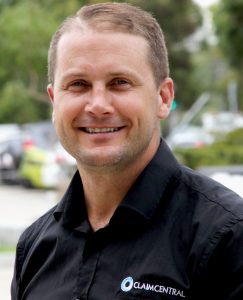 Brian Siemsen (left), Quin Netzel (right)

About Claim Central Consolidated
Founded in 2002, Claim Central Consolidated (CCC), is a global leader in property, auto and cyber insurance claims; insurance technology and data and insights. We are pioneers of digital claims fulfilment and live video streaming across the Asia Pacific. Our market-leading technology solutions are completely transparent, simplifying the claims process and significantly improving policyholder service satisfaction on behalf of leading insurers across the globe. For more information, please visit: www.claimcentral.com.au
Media Enquiries
For all media-related enquiries please contact Jessica Srbinoski:
---
Sign up to Claim Central news:
Contact us
---
PO Box 4017,
South Maroubra NSW 2035
Follow Claim Central