Claim Centrals COO, Clint Kerekes sits on panel discussion at inaugural InsurTech Summit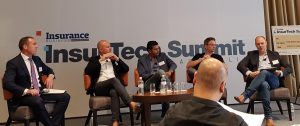 How does insurtech impact claims? Global COO Clint Kerekes (far right) and other industry experts discussed how insurers are using insurtech to create a delightful service experience for customers, at the inaugural InsurTech Summit on 8 May in Sydney. During the event, Clint shared his view around what insurtech means to him. You can read the full transcript below, or check out the video recording at the bottom of this article.
Moderator: Now we're going to move onto what is Insurtech doing to deliver a superior customer experience. I'm joined on the panel with Jason, Ash, James and Clint. Each of whom will introduce themselves, can I start with a short introduction, who you are, where you work and what your role is and what Insurtech is for you?
At Claim Central we started out as a services company, where we work for insurance companies in the building repairs of the claim. In order for us to process those claims efficiently, and deal with the customers in the way they want to be dealt with, we created our own platform.
After a couple of years of that iteration we found that the system would actually add value to the insurance company as a whole. And in the end, ended up creating a complete end-to-end digital platform that connects all the stakeholders in the lifecycle of the claim.
What insurtech means for me is enablement, as it allows the insurance companies to be more externally focused, to put the customer in the centre of the process, while still maintaining internal efficiencies. But like we've already said, its more than just the technology for me. Its the start-up methodology, it's the thought leadership and the design thinking that goes into that technology which makes it very exciting. 


Moderator: Claims is a really important part of where the experience from the customer is, Clint thankfully that's the space that you operate in. For your business, what are the sort of things that you are using, deploying, through your model to provide that really good customer experience?
Clint: Importantly from a claims point of view is to, we take approval of a claim as a given, so once the claims is underway and it's a rather serious claim, let's say a tree has fallen onto the roof of someone's home, as insurance professionals we sometimes just think what we need to do is just go out and fix the hole in the roof. What we don't really understand and we need to get better at understanding is for the customer, is not about fixing the hole in the roof. It  about making their family feeling safe;  it's about them getting their life back to normality as quickly as possible; and it's also about minimising inconvenience so a complex claim could mean that the customer could effectively have to be home multiple times during the claim.
 We don't often appreciate that customers' have bosses too too, they have work commitments so that they can't just take off when we need them to take off. So, part of our platform is we try to develop and try to settle those needs for the customers. Our LiveLogik live streaming application gives us, and insurers, the ability to see what the customer sees at the first notice of loss, so we can see at that point the tree has fallen onto the roof, we can see exactly what trades need to go out at the right time, in the right order. So, as to minimise that frustration and inconvenience with regular communication absolutely crucial during the process. It's also having an on-demand communication, where customers just want to see the status of their claim and they can just look it up. Our digital platform connects all of our stakeholders in the one claim so everyone has complete line of sight to where the claims at, which minimises the inconvenience and frustration and ultimately reduces the life cycle of the claim.
Moderator: Insurtech is here, its relevant, it's important for everybody to understand how it can be used to deliver for the customer. What in your opinion is the real opportunity for the industry, as it relates to delivering the experience for the customer?
Clint: A little closer to home, the pain out of a claim is for a claims agent, a claims manager is a deeply rewarding experience, but I think in today's environment with the stress and the pressure it just often feels like they are continuously having to deliver bad news, continuously having to have frustrated customers on the phone. The ability to integrate Insurtech smartly into the back office operation of the insurance company will enrich the employees experience as well, where they are feeling motivated, engaged, and empowered to make good proper decisions. I think that's is the win win for customers and employees.
Moderator: I'm interested in your perspective, or point of view as to Australia's position on Insurtech, and how we rank globally. I know we were in the US last year and it was interesting to see how Australia sits as far as what's happening in the space? Claim Central is here and in the US, what are the differences and experiences for Insurtech?
Clint: Well, it's still early days in the US, but I do know we were at a conference just recently with a couple of other Australian companies there, and the feedback and the excitement around our product was quite large. It seems there is a place for it, and certainly a need for it as well.



Media Enquiries
For all media-related enquiries please contact Jessica Srbinoski:
---
Sign up for the latest insights, news and updates.
Contact us
---
PO Box 4017,
South Maroubra NSW 2035
Follow Claim Central