Claim Central responds to South-East Queensland CAT
On October 31st the suburbs of South-East Queensland were pummelled by a hailstorm that resulted in severe damage to properties across the state.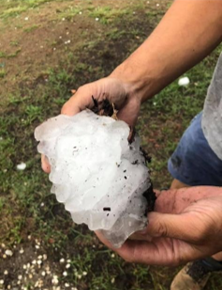 The Insurance Council of Australia (ICA) reported more than 8,500 claims had been lodged, with estimated insurance losses exceeding $110 million. The hardest-hit suburbs included Springfield, Rosewood, Greenbank, and Boronia Heights, as well as parts of the Sunshine Coast.
Our response was fast and intentional, ensuring the people whose lives were affected could return to normal as soon as possible, by repairing their homes quickly. Most of the damage sustained was to property roofs with re-roofs being the predominant repair.
We activated our CAT Response Plan, which enabled us to get to the focal point of the damaged areas and carry out numerous assessments with speed and care. Through deploying our assessors from interstate into South-East Queensland we were able to submit half of all our assessments in under 10 days of attendance.
Through optimizing on-site project managers, utilising our CAT data insights and engaging our trusted supply chain, 15% of customers' houses were repaired and ready to be moved into just one month after the event had happened – before Christmas.
One key example was a home in Boronia Heights:
Boronia Heights
Days taken to complete repairs: 6
Initial SOW: $6,670
Customer's comments: "Was not expecting anything to be done this year, can't believe how quickly everything was completed." 
Another great outcome for one of our client's customers was this major loss claim in Greenbank from the same CAT event, that benefitted greatly from our onsite project manager being able to supervise the repairs down to the last details:
Greenbank
Days taken to complete repairs: 18
Initial SOW: $74,100
Customer's comments: "I am happy with the works completed and the service provided"
Furthermore, another major loss complex claim located in Chambers Flat was also completed in a timely manner to ensure a very happy customer for our clients:
Chambers Flat
Days taken to complete repairs: 60
Initial SOW: $114,400
Customer's comments: "10/10 – very satisfied overall, thank you!"
Claim Central has repaired hundreds of houses in South-East Queensland since this catastrophic event and is continuing to bring back normality to the affected customers' lives while ensuring a high standard of quality so that all customers are satisfied with the service provided during this difficult time for them.
We are proud to have an average final service rating of 9.6/10 for all South-East Queensland hail event claims, while also controlling costs through monitoring and maintenance of tarps from initial make safes as rain occurred after the hail had already struck. This was to avoid any further damages and unnecessary variations, which we were able to keep under 6.07%.
Customer testimonials:
10/10
"I was pleased with regular calls and updates."
9/10
"Very happy"
9/10
"All good. Many thanks to everyone associated with our claim, we are really happy with the outcome."
10/10
"We have been blown away with the response and level of communication for what was a bad experience with the event. Claim Central have turned it around and made it a good experience for us."
10/10
"Was not expecting anything to be done this year, can't believe how quickly everything was completed"
Media Enquiries
For all media-related enquiries please contact Jessica Hunter:
---
Sign up for the latest insights, news and updates.
Contact us
---
Australia
New Zealand
Follow Claim Central