How to seek fair prices when selecting an insurance repair builder
No one ever plans to have a property related incident that results in loss or damage, but if they do, it is important that insurers help them get their lives back to normal as quickly and best as possible. Selecting the right insurance repair builder is a crucial step in the claims process in making sure that happens.
When it's time to select contractors to repair the home, it is important that you get quotes from multiple businesses and compare prices of each.
As you are doing this, keep in mind that not all contractors are the same. Some may charge more than others for the same work or may offer lower quality repairs. So how can you ensure that you are getting fair prices for the repair?


Is the contractor licensed and vetted?

Ensuring the contractor is licensed and vetted before asking them to undertake any insurance repairs is crucial. Having a licensed and vetted trade lets you to know that the contractor is skilled in their acclaimed speciality – for example, a plumber, roofer, electrician, builder, etc.


Is the contractor aligned to insurance repairs?
Insurance repairs can be a bit different to private works and renovations. Customers' emotions can be vulnerable, especially after a destructive event.
Choosing a builder or trade that is aligned to insurance repair work can take a lot of stress off claim handlers as they generally know how to manage customers in these situations.


Are the quotes you're getting accurate?
Sometimes builders can overcharge you when quoting to fix damaged areas. Utilising an insurance industry-specific estimation software can give you insight into how much to expect when carrying out the repairs.
Having this information before receiving quotes can allow you to negotiate with suppliers to safeguard you and help get the fairest price possible.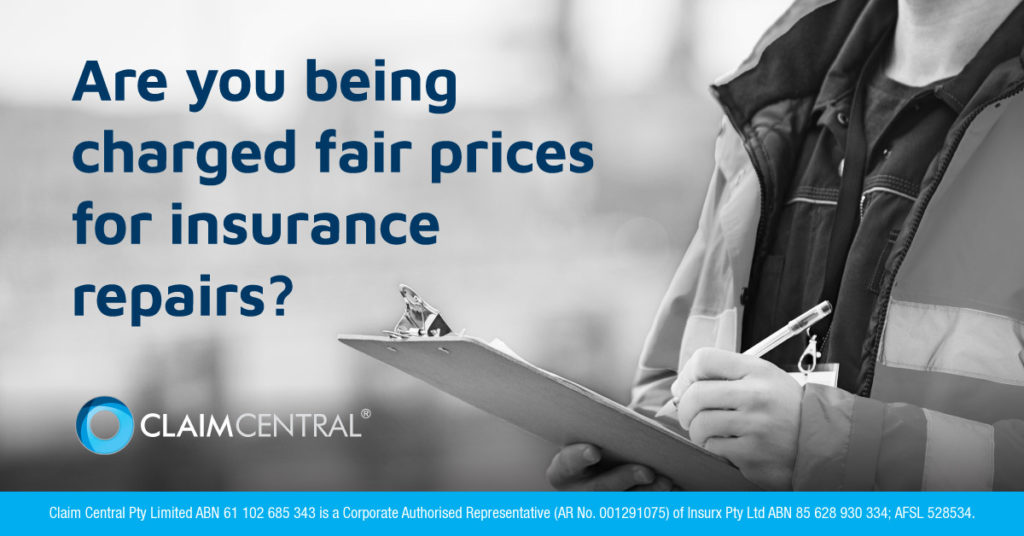 How does Claim Central Property seek fair prices when selecting trades?


Competitive tendering
Claim Central's trade panel are vetted and inducted through comprehensive training to understand expectations, technology and the industry demands.
The most prominent way Claim Central protects clients from unfair and overpriced works is through competitive tendering. Claim Central allows multiple suppliers to submit quotes through our industry-specific claim technology platform.
Competitive tendering allows us to select the most appropriate contractor for the repair job based on their costs and past performance, including repair quality and lifecycle length.


Alignment with reputable brands
Claim Central aligns our supply chain with reputable brands that offer discounts when materials are purchased with them. Offering this incentive to our contractors creates an added benefit to tendering on insurance repair jobs.
With these discounts in place, suppliers may also tender more competitively due to the savings on the materials.


Want to seek a fair price by accessing Australia's highly regarded property trade network? Click here to contact us today. 



Claim Central Pty Limited ABN 61 102 685 343 is a Corporate Authorised Representative (AR No. 001291075) of Insurx Pty Ltd ABN 85 628 930 334; AFSL 528534. The information in this article does not take into account the investment objectives, financial situation and particular needs of any particular person. Claim Central Pty Limited and its related bodies corporate make no recommendations as to the merits of any financial product or financial services referred to in this article, its website, emails or its related websites. Before acting on any information in this document, you should consider the appropriateness of it, having regard to your specific financial circumstances and requirements. In particular, you should consider obtaining independent financial, legal, taxation and accounting advice to ascertain whether you should acquire any financial services described in this document.
Media Enquiries
For all media-related enquiries please contact Jessica Hunter:
---
Sign up for the latest insights, news and updates.
Contact us
---
Australia
New Zealand
Follow Claim Central